Want to build a badass, authentic brand that converts?

Let me guess

.
You're too overwhelmed by all branding entails and don't even know where to start?
You don't have a huge budget for branding but you know the importance of it?
You want customers that will buy from you over and over again?
You want a brand that you are so confident in you'd plaster it everywhere?
You want help crafting a brand story that CONVERTS?
Let's build your dream brand that attracts customers who NEED what you're selling!
My name is Kinz.
I design drool-worthy
brands and websites.
I work with BAD ASS women-founded companies who are eager to spread their stories through their visuals, messaging, and websites.
Time and time again, I've had small business babes and influencing queens approach me.
Their stories were all starting to sound the same.
"I love your work. I want an exciting, vibrant brand with purpose-fueled messaging and visuals. But, I don't have the money. HELP."
I'd work to accommodate budgets when I could, but most of the time ended up having to turn people away. I knew I couldn't afford to give them the attention and creativity I give my clients.
But with every person I turned away, I felt a twinge of guilt. Turning women away because they couldn't afford my services felt SO against my purpose it hurt.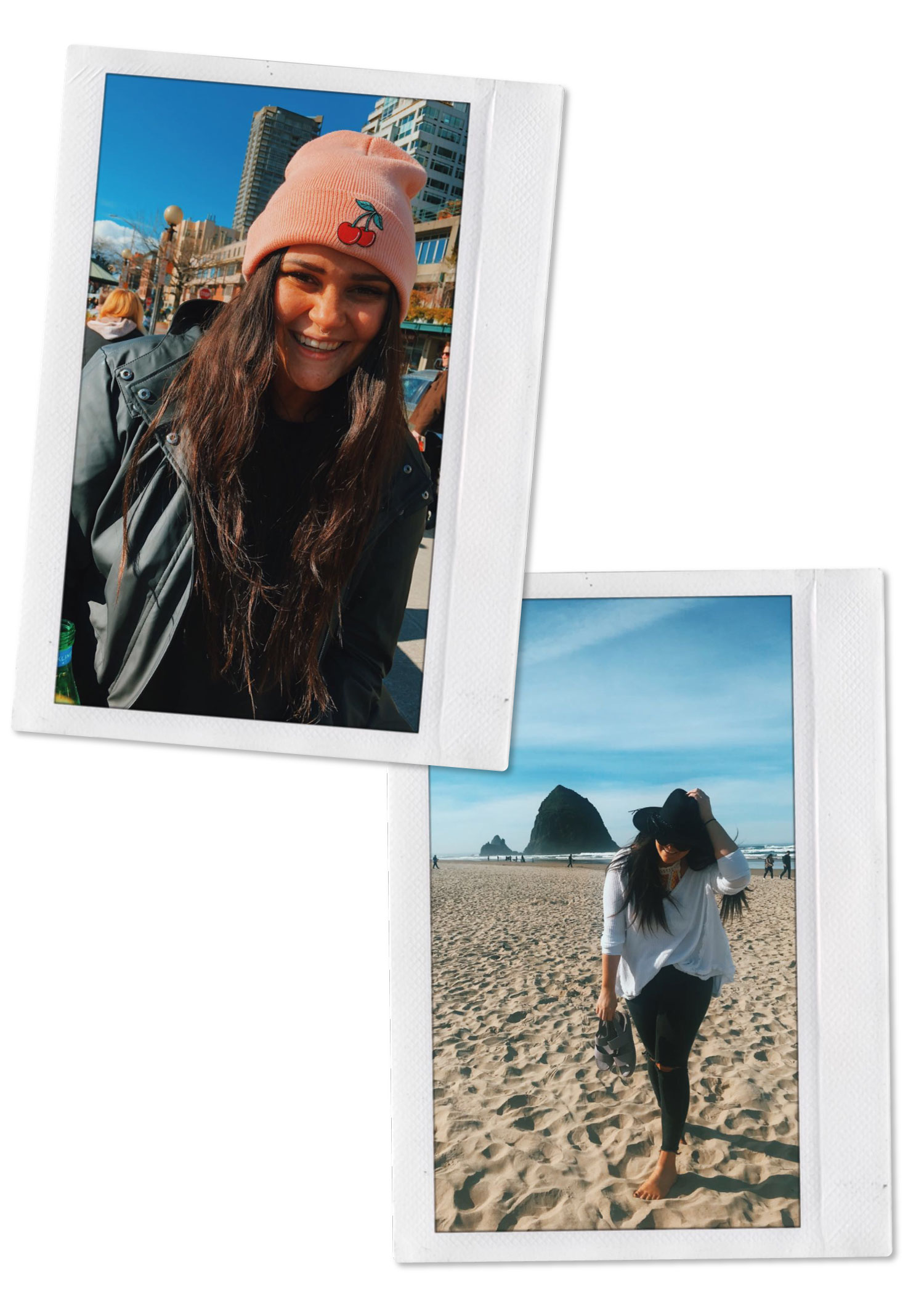 Ta-da!
Thus Badass Branding School was born. This program is a place I share EVERYTHING I know about branding. This program is an ode to the struggles of starting a business and the budgeting that happens in the beginning.
Babe, I KNOW that having a brand as vibrant as your why will jumpstart your success so you won't have to pinch those pennies much longer.
I've worked with clients who were having $2k months and after focusing in on their branding they are now making $80k+ months with ease.
Does dope branding promise instant success?
Definitely not. But will it make that path to success easier? 100%.
Unique, and cohesive branding isn't just reserved for those with huge budgets. Badass Branding School is turning a service that was once reserved for the successful, into a step-by-step path to the same brand you could get for $100k+ from a design agency. (Not an exaggeration.)
So what exactly is Badass Branding School?
Badass Branding School is a 5 module online course that will guide you in the steps to create the brand of your dreams.
Not just a logo, color palette, and fonts. An entire brand.
At the end of the course you will have a fully-designed brand identity (a value of $10k alone). Each module focuses on different steps in the branding process.
Want a peek into the curriculum?
Module 1: Orientation
This is the module of exploration and brainstorming. As women, we sometimes shy away confidently stating our identities.
That leads to

wishy-washy

brands and

wishy-washy

success. The branding tips you will learn in this first module will be enough to transform your whole brand. We'll also dive into goal setting and mindset in this first week too.
Module 2: Story time
We're going to get into the nitty gritty here. In this module we're nailing down the messaging and words behind your brand.
Stories sell.
I'm going to teach you how to craft a story that explains your why and converts customers to lifetime purchasers.
Module 3: Design Camp
You've done all the messaging and strategy work. Now for the fun stuff.
This is where you'll take the why behind your brand and translate it into visuals that tell that story with ease.
You will receive options for 100 different custom logos, a customized color palette, and 20 font combinations. Technically more options than I give my high ticket branding clients! But shhhhh… don't tell them that 😉
Module 4: Web Week
This is where we build your space online. The most technical out of all the modules but I make the process easy and fun. With the video I will walk you through how to create a wordpress or shopify website, depending on which path you chose.
Module 5: Expanding Your Empire
You have your story. You have your visuals. Now it's time to attract the masses with a cohesive brand across all your platforms.
You'll how to brand your social presence, website, and other forms of communication in exciting, unique ways.
We'll dive deep into the conversions to top it off. A pretty brand is fun. But we need it to make you money too!
It's A LOT. I know. But don't be overwhelmed. The course is designed to be completed at your own pace. You'll have access to it forever.
And guess what? The #1 comment of everyone who has gone through my process? They can't believe how much fun they had!
This Branding School will empower you with the tools to create the brand you've always dreamed of!
Kinzie's a branding genius. And honestly, I just feel so happy and honored we connected, because she has a gift. She helps people launch their sites with their heads in the game. I LOVED the branding worksheets. I took the time to do them all and it helped me re-focus, and reset my intentions and purpose. It feels like when I launch, I'll be doing it the right way. SO, so excited about this!
Amy, Influencer + Podcaster
So what exactly are you getting?
5 VALUE PACKED MODULES (Value: $10k+)
5 value packed modules with worksheets designed to help you DO THE WORK with each branding topic.

BRAND IDENTITY (Value: $4k+):
During design camp, you will get to choose between 100 different custom logo options, 50 color palettes, and 20 different font combinations. This process alone usually takes months! We're going to do it in a week.
BRAND GUIDE (Value: $10k+):
After you've completed all the work, you'll send me your info and I'll design it into a brand guide for you to reference and make sure you're moving forward and staying on brand.
(BONUS!) NEW MODULE ON WEB DESIGN (Value: $10k+)
Learn how to design the website of your dreams, simply, and easily. 
YOUR INVESTMENT: $799
A value of $34k+ for only $799??? What's the catch??
Well the catch is, you only have until November 18th to sign up!
Hurry babe! The Badass Branding School closes once we reach 30 signups!