PAY IN FULL AND RECEIVE A FREE EXCLUSIVE "ANTI-STARVING ARTIST" MUG!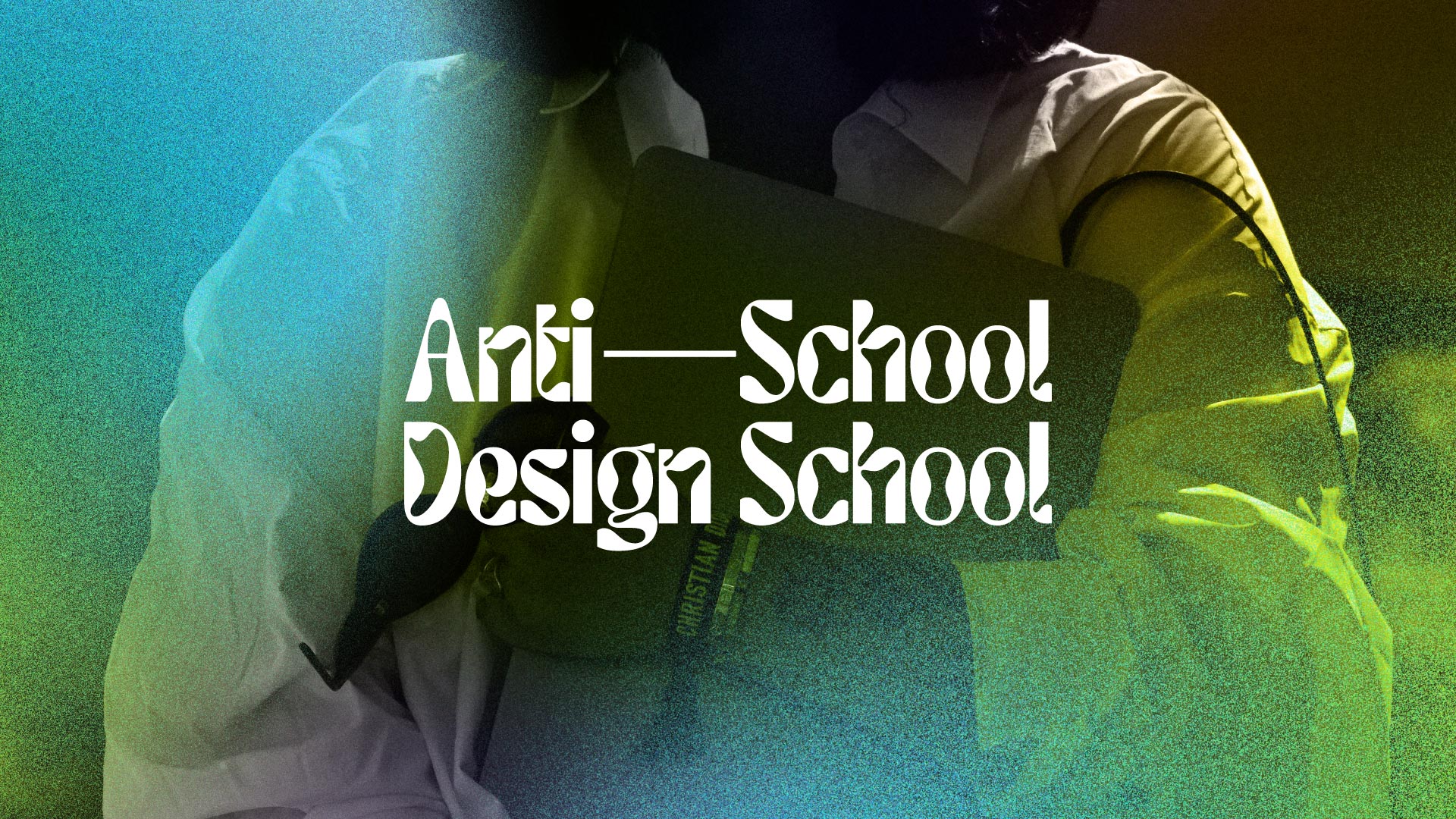 LEARN HOW TO USE ADOBE ILLUSTRATOR TO CREATE YOUR DREAM GRAPHICS IN 8 WEEKS!
Want to learn how to create graphics like social media posts, stickers, business cards, and more?
Do you want to have the freedom to create designs in minutes that would have taken weeks of back and forth with a designer?
How does it sound to truly embrace your inner creativity and be able to create something amazing?
Ready to challenge yourself to learn a new tool that will serve you for the rest of your life?
Do you want to learn and grow through receiving feedback from Kinzie on your designs?
😍 SOUNDS LIKE ANTI-SCHOOL DESIGN SCHOOL COULD BE THE PROGRAM FOR YOU. 😍

I'm a self-taught designer with 10+ years of professional design experience.
And here's a little secret. (Actually not a secret at all, but it sounds much more fun and dramatic that way.)
I fucking hate college. And not just my experience in college. But colleges/universities/secondary education as a whole.
When I attempted college (two semesters, first one dropped out, second time failed out) I was working full time + paying for school with the money I was making + using credit cards to be able to afford my necessities + wanting to literally die because I was so stressed and massively out of alignment.
But here's the catch, I didn't drop out and go work a job that didn't light me up and spend years aimlessly trying to find my purpose. I dropped out and got to work learning more, creating more, and continually saying yes to opportunities that felt uncomfortable but also SO EXCITING.
Because here's the thing, if you are willing to put in that work and step out of your comfort zone, then you don't have to go to college!!! (Surgeons I am NOT looking at you. I'm sorry, I think there's no way out of this whole college thing for healthcare workers.)
For creative careers or if you're wanting to grow your biz? A formal post-secondary education is the last thing you need.
I'm so freaking excited to announce Anti-School Design School, an 8-week hands-on design course to help you learn how to create your dream graphics using Adobe Illustrator.
With over 10 years of professional graphic design experience I can tell you a relentless determination to get better is more powerful than anything they'll teach you in a crusty classroom.
Ready to become one of my design students?? Keep reading baby!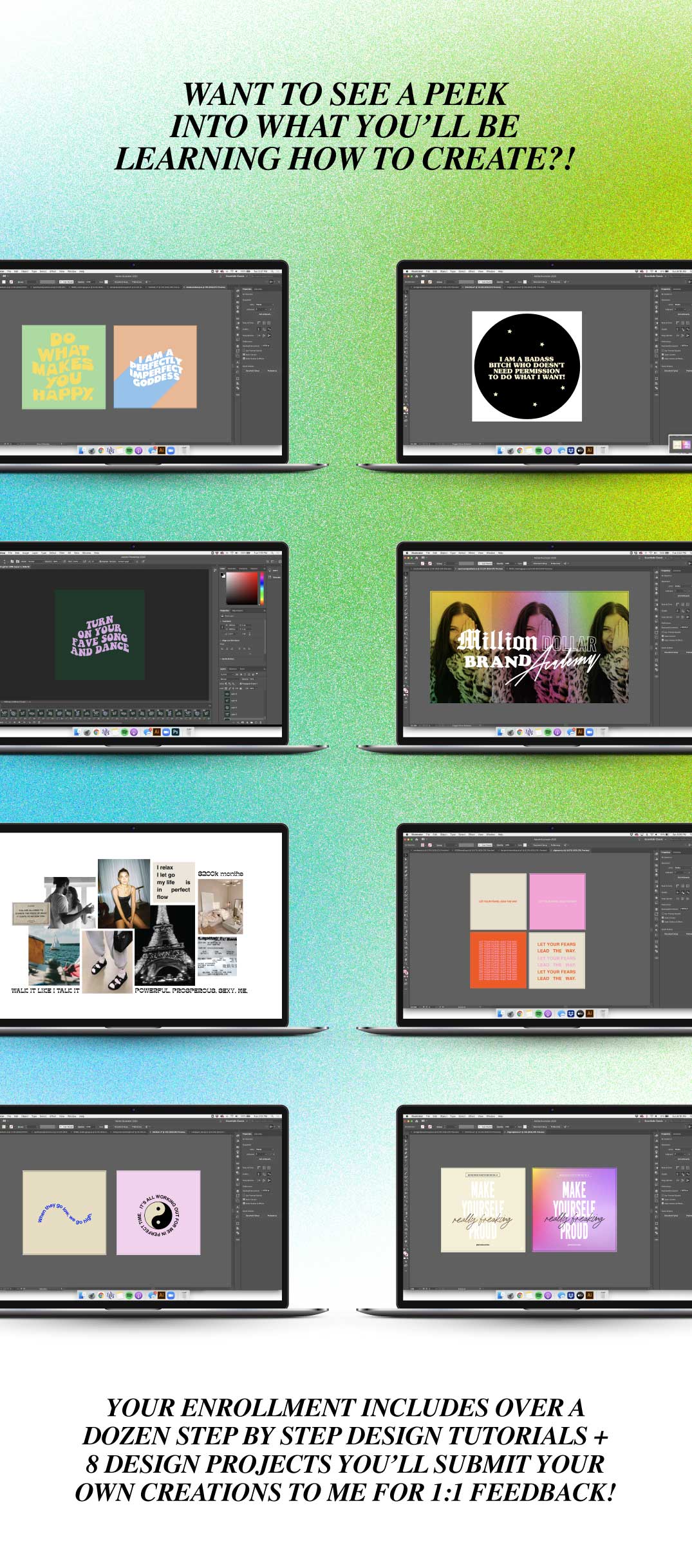 WE ARE LIVING IN THE AGE OF CONTENT OVERLOAD. IF YOU WANT PEOPLE TO PAY ATTENTION, LEARN HOW TO MAKE GRAPHICS THEY CAN'T IGNORE.
So... let's talk about the next thing on your mind.
Why Anti-School Design School?
Here's the truth. You could google how to use Illustrator. And you could sift through millions of hours of tutorials and try to figure it out on your own. But that doesn't interest you. Because if it did, you would have already done it! Time is money and you're not trying to spend thousands of hours to learn how to make a simple graphic.
I'm not going to teach you every single thing Illustrator does. Hell! I don't even know close to everything you can create in this magical program. But what I'm going to teach you is how easy it can be for you to create on-trend, marketable graphics and designs that will move your business forward.
And to be honest, the real reason I created this course isn't because I wanted to teach you how to create text boxes. The real magic is in learning how to design. Learning how to use the tools yourself to create things you're really freaking proud of! Things that can make you a lot of money!
Yes, learning how to use the tools matter.
But what you do with the tools, is the real magic.
Through my design tips and tricks I share in every video along with the feedback and critiques in a private FB group, you'll emerge after 8 weeks (or however long it takes you, you can totally take your time) a professional designer! Ready to make bombass graphics for your biz or other biz owners if that's your thing!
ABOUT THE WEEKLY PROJECTS + FEEDBACK
This is one of the most invaluable parts of this course. Receiving feedback, integrating, and giving feedback to other students is going to be a game changer in this course. You will have full freedom to submit whatever projects you are working on to a private FB group for students of the course and Kinzie + other students will give feedback to help you improve your work! You will also give feedback to other students which improves your own skills of upleveling your designs.
This is a massive value and so so important to take advantage of. I get it. It's freaking scary. But this is how you can truly step into your power as a great designer, whether that's just for you and your business, or if you're wanting to help other business owners with their graphics!
HERE'S EVERYTHING THAT'S INCLUDED:
Over a dozen trainings to teach you the ins and outs of using Adobe Illustrator. (No prior experience necessary! This program is suitable for absolute beginners.)
8 designs projects released weekly with prompts and inspo. As well as tips from Kinzie on how to create the best graphic for the project. (PS These aren't going to be boring ass projects. These will be things you're excited to create!)
Access to a private FB group where you'll submit your projects for critiques and feedback from Kinzie!
BONUS: How to start a print on demand t-shirt shop!
BONUS: How to use photoshop to create an animated mantra flashing graphic.
BONUS: Instagram feed template download to help you plan your Instagram feed on Adobe Illustrator.
*You will need an active subscription to Adobe Illustrator and a Mac or PC to do these tutorials and projects.*